Runfire Cappadocia
We are now official partner of Runfire Cappadocia, in Turkey.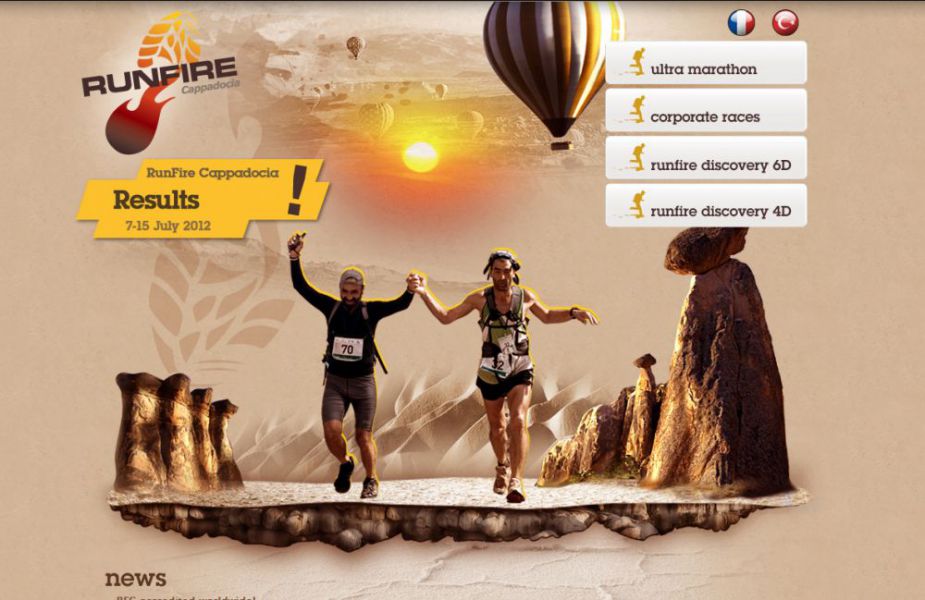 Mysterious subterranean cities built thousands of years ago, a spectacular landscape, rock formations that bring history to life and a mystical atmosphere transform this marathon a new adventure at each kilometer throughout this enchanted land.
The smell of earth in your nose, greeting the Three Beauties, passing through in vast shadow of Erciyes and running unchained along the never-ending whiteness of the Salt Lake... Being there... Challenging life at that place where all times interlace...
This is a challenging route of approx. 240 kilometers in desert heat. Are you in?
Apart from the first and last night stays at hotels, everyone in Run Fire Cappadocia will be accommodated under the stars alone with the nature, at camps made of hair tents. Drinking water and hot water will be supplied to contestants during the contest at the camp areas. A medical and search & rescue team will accompany participants during the marathon.
Application fee: 1300 EUR
The application fee includes;
First and last day hotel accommodation
Transportation from Nevsehir Airport
Transportation when needed during the marathon
Medical check up a day before the marathon
Dinner at first main camp
Healtcare service
Emergency Service
Tent, WC, shower at main camps
Water (@CPs and main camps, hot water also available)- Every 10 km there will be a Check Point booth
Spot device (it will be given to all runners. It is a device that we can follow runners through satellite signals. It has also emergency button)
Pass for ancient cities
Transport to Nevsehir Airport
More infos coming soon.
Offenes Programm
Dauer/Termin/Ort
Preis
Buchen
RUNFIRE CAPPADOCIA Ultramarathon

7 Tage/days
20.07.13 - 27.07.13
Turkey
1300 EUR