Atacama Crossing 2011
Press release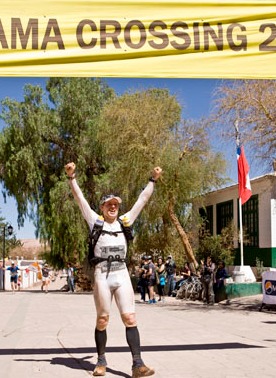 German is turning heads at 250k desert run in Chile
A novice runner and recreational athlete from Dortmund, Germany, is upsetting many professionals from all over the world at his very first race. Michele Ufer wanted to experience and demonstrate in an extreme self-test, how proper mental training and the use of sports hypnosis can enhance the human body's performance. The outcome exceeds all expectations.
In the driest and most hostile environment on earth, the Atacama desert in Chile, Michele Ufer finished on a sensational 7
th
place overall, while scoring a 10
th
, a 4
th
, a 5
th
and twice a 6
th
on the up to 74k long day trips. Without ever having finished a marathon, half-marathon, 10k or 5k race, Ufer was able to leave experienced long distance and marathon runner behind. And he even feels good and fresh doing it.
His secret is called sports hypnosis. It's a method to greatly improve performances and desired changes. In sports and areas of every day life, where it's all about reaching ambitious goals.
Ufer is falling for this kind of challenge and is planing a doctoral thesis about mental training/sport hypnosis and more extreme projects.
You can find photos from the Atacama Crossing in the picture gallery and reports on our press page.