FREE Test for Runners
02.04.2015 16:24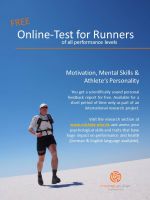 On motivation, self-leadership, mental skills, athletes's personality
As part of the international research project Self-Leadership, flow & peak performance under extreme conditions Michele Ufer offers to runners of all levels the free participation in a sport psychology online assessment.
The tool has been used to assess extreme runners in worldwide ultramarathon events and is now also be made available for a short time for less extreme people.
Many athletes report that they have gained valuable insights by this assessment.

Of course, any information gained in this test is not equally exciting for everyone and the instrument does not replace intense sports psychology coaching and mental training. But, it can give helpful hints and ideas where or in what direction you could develop in addition to physical training in order to overcome future challenges still better or healthier or to just live life happier. And sometimes it's so small impulses that lead to larger, long-term changes.
Feel free to directly carry out this assessment yourself and share the info with your running friends and team mates. Perhaps they find it exciting, too.
And here's the FREE Online test for Runners